Organs
Riesenorgel (Giant Organ)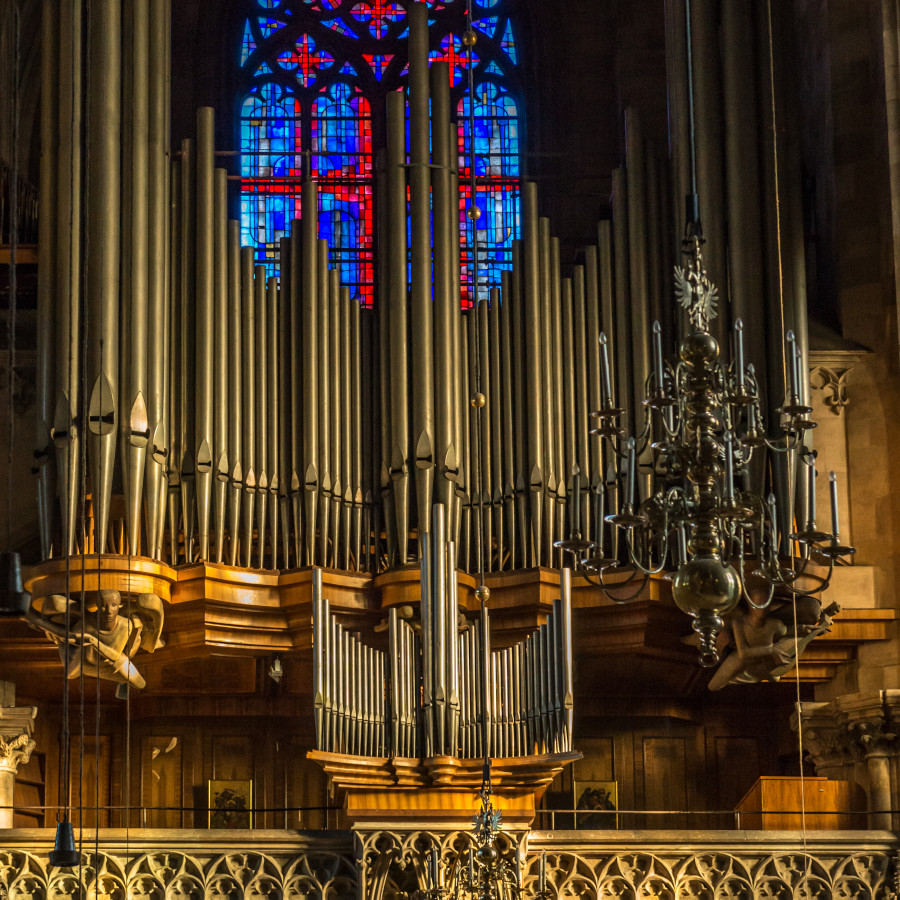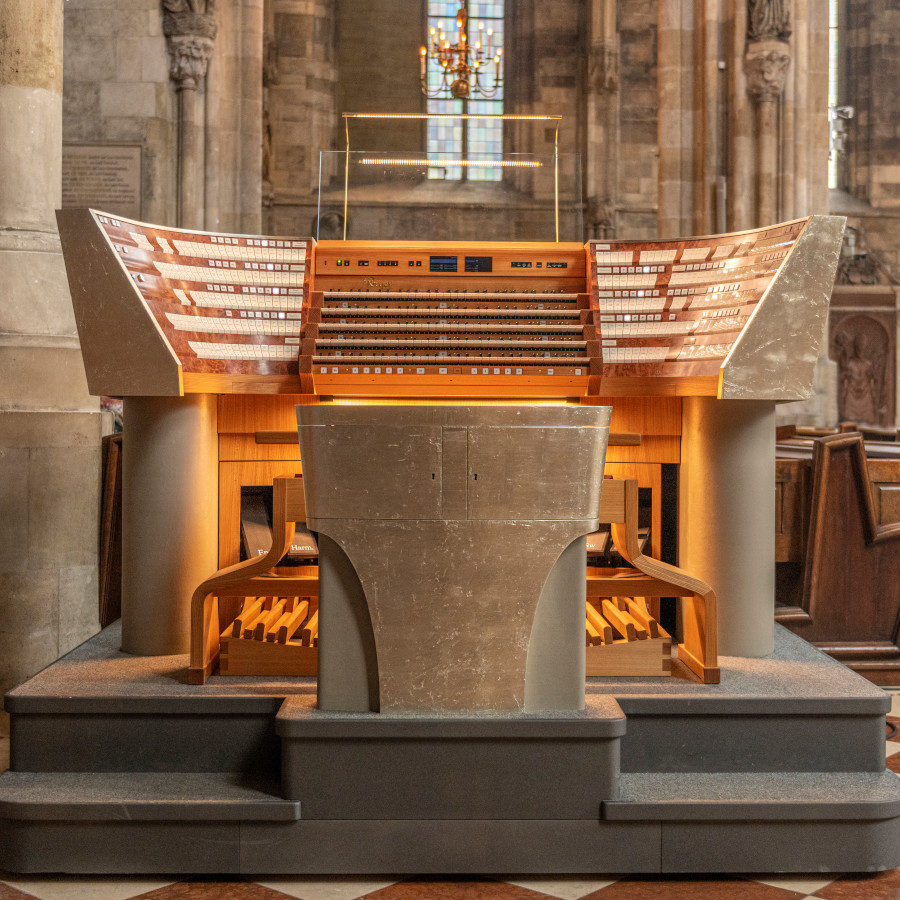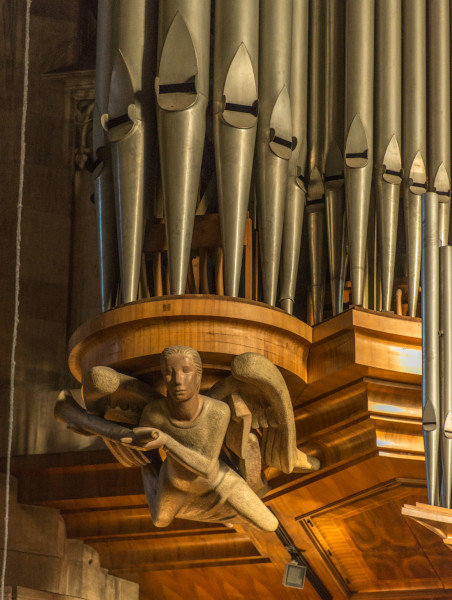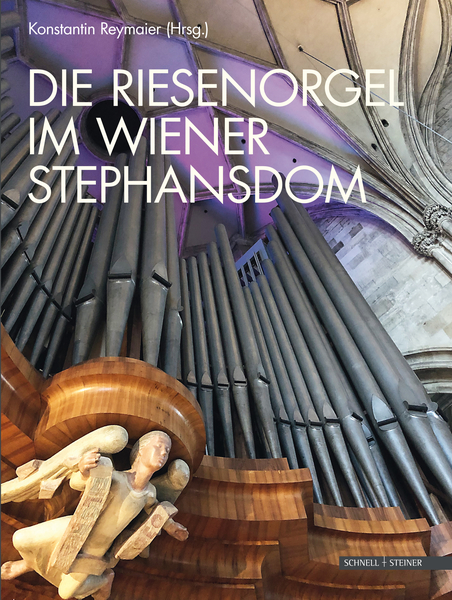 Further links
The book 'Die Riesenorgel im Wiener Stephansdom' about the cathedral's organs is available from the cathedral shop.
Rieger Orgelbau, Schwarzach (Austria), 2020
5 manuals, 130 stops, 8588 pipes
In April 1945 the old organ in the west, build by Eberhard Walcker in 1886, fell victim to the fire in the cathedral. It was named Riesenorgel (giant organ) because it stood above the Riesentor (giant gate) which to this day is the name of the main entrance to the cathedral.
In 1960 a new large instrument was built by the Viennese organ builder Johann M. Kaufmann. This, however, was only played for about 35 years before being left unused for many years. Between 2017 and 2020 Rieger Orgelbau rebuilt the instrument, using old pipework and retaining the outer design of 1960, but, naturally using modern technologies. There is a mobile central console in the main body of the church from which both instruments in the west and the east can be played together.
Specification
Electric key and stop action
Floating manuals
Equal temperament
a1 = 442 Hz at 15 °C
Hauptwerk (1. Manual)
Prinzipal 32'
Prinzipal 16'
Bourdon 16'
Prinzipal I 8'
Prinzipal II 8'
Doppelflöte 8'
Gedeckt 8'
Viola 8'
Quinte 5 1/3'
Oktave 4'
Offenflöte 4'
Gemshorn 4'
Terz 3 1/5'
Quinte 2 2/3'
Oktave 2'
Mixtur major IV 2 2/3'
Mixtur minor IV 1 1/3'
Cornet V 8'
Posaune 16'
Trompete I 8'
Trompette II 8'
Klarine 4'
Positiv Evangelienseite (2. Manual), schwellbar
Kontrabass 16'
Aeoline 16' (auch Pedal)
Suavial 8'
Gedeckt 8' (auch Pedal)
Gambe 8'
Vox coelestis 8'
Aeoline 8'
Blockflöte 4'
Fugara 4'
Nasard 2 2/3'
Flöte 2'
Septime 1 1/7'
Harmonia aethaeria IV - V 2'
Klarinette 8'
Rohrschalmei 8'
Tremulant
Rückpositiv (2. Manual)
Prinzipal 8'
Bourdon 8'
Quintatön 8'
Prinzipal 4'
Nachthorn 4'
Nasard 2 2/3'
Doublette 2'
Tierce 1 3/5'
Larigot 1 1/3'
Sifflöte 1'
Scharff IV - III 1'
Cromorne 8'
Tremulant
Schwellwerk (3. Manual), schwellbar
Quintaton 16'
Viola 16'
Diapason 8'
Flûte harmonique 8'
Bourdon 8'
Bourdon céleste 8'
Violoncelle 8'
Voix céleste 8'
Octave 4'
Flûte traversière 4'
Salicet 4'
Nazard harmonique 2 2/3'
Flûte octaviante 2'
Tierce harmonique 1 3/5'
Fourniture V 2 2/3'
Cymbale III 2/3'
Cornet V 8'
Bombarde 16'
Trompette harmonique 8'
Basson-Hautbois 8'
Voix humaine 8'
Clairon harmonique 4'
Tremblant
Positiv Epistelseite (4. Manual), schwellbar
Bourdon 16' (auch Pedal)
Salicional 16'
Prinzipal 8'
Wienerflöte 8' (auch Pedal)
Gemshorn 8'
Unda maris 8'
Quinte 5 1/3'
Prestant 4'
Flauto amabile 4'
Terz 3 1/5'
Nasard 2 2/3'
Septime 2 2/7'
Oktave 2'
None 1 7/9'
Mixtur IV 2'
Fagott 16'
Trompete 8'
Cor anglais 8'
Tremulant
Windschweller
Solo (5. Manual), schwellbar
Gambe 8'
Gambe céleste 8'
Flûte harmonique 8'
Flûte harmonique 4'
French horn 8' (Hochdruck)
Clarinette 8'
Tuba 8'
Tuba 4'
Tremulant
Harmonika 16' (Windschweller)
Harmonika 8' (Windschweller)
Trompeteria (5. Manual)
Trompete 16' (Bass / Diskant)
Trompete 8' (Bass / Diskant)
Trompete 4'/8' (Bass / Diskant)
Tuba 8'
Glocken
Großpedal
Gravissima 64'
Prinzipalbass 32'
Untersatz 32'
Subbass 16'
Offenbass 16'
Gemshorn 16'
Quintbass 10 2/3'
Großseptime 9 1/7'
Offenflöte 8'
Terz 6 2/5'
Theorbe 3 1/9'
Kontrabombarde 32'
Kontrafagott 32'
Bombarde 16'
Posaune 16'
Trompete 8'
Klarine 4'
Kleinpedal
Violonbass 16'
Prinzipal 8'
Gedeckt 8'
Cello 8'
Oktave 4'
Nachthorn 4'
Flöte 2'
Mixtur IV 2'
Dulcian 16'