Bells
in the North Tower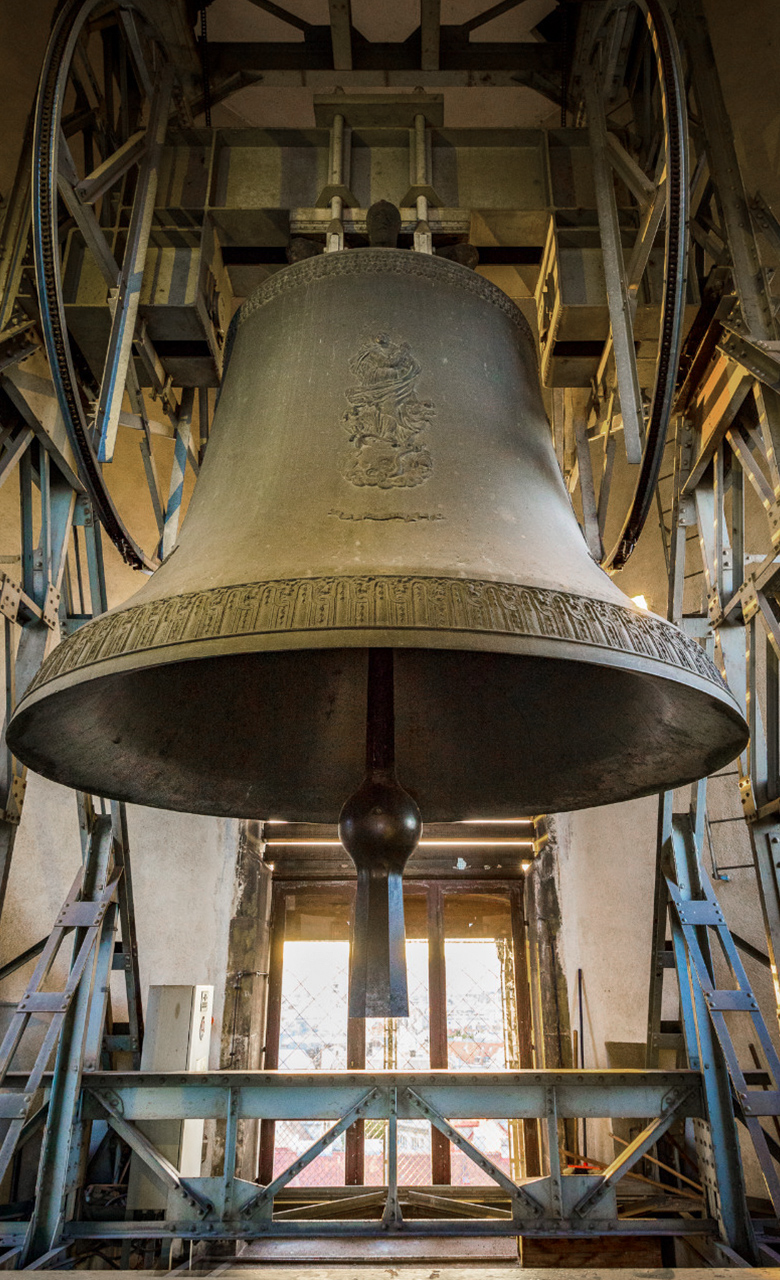 'Pummerin'
Pitch: C° + 4
Weight: 20,130 kg
Ø 313.6 cm
Cast in 1951
Its actual name is 'Marienglocke', but its deep and mystical sound has led to it being referred to as 'Pummerin' ('Boomer') by the people of Vienna.
The old 'Pummerin', weighing 22,500 kg, was cast from captured Turkish cannonballs in 1711 by order of Joseph I. Due to its considerable weight of 22,500 kg and the associated structural loads on the South Tower, it was later only rung by moving the clapper. The last time was on Easter Sunday 1937. It was destroyed in the cathedral fire of 1945.
The new 'Pummerin' (strike tone C° + 4/16) was newly cast in 1951 from the ruins of its predecessor in St. Florian and has hung at the top of the unfinished North Tower since 1957. It weighs over 22,000 kg, has a diameter and height including the crown of around 3 m each, and measures 23 cm in its thickest place.
In 2011, the clapper was replaced by one weighing 200 kg less. At 'just' 637 kg, it creates a gentler sound.
It is rung on the following occasions: Christmas Eve after the first vespers, on Christmas Eve to mark the beginning of Holy Mass, on Christmas Day after the Pontifical Mass, on Saint Stephen's Day after the Pontifical Mass, at the end of year devotions after the Te Deum, at midnight at the turn of the year, at the end of the Easter Vigil, on Easter Sunday after the Pontifical Mass, on the Feast of the Cathedral (23 April) after the Pontifical Mass, on Whit Sunday after the Pontifical Mass, on Corpus Christi at the beginning and end of the procession, on the National Holiday (26 October) after the solemn devotions and before the Pontifical Requiem of All Souls' Day.
The 'Pummerin' also raises its voice on special occasions such as the death or appointment of a Pope or the death, appointment and assumption of office of the Archbishop of Vienna or the funeral of the cathedral priest.